Down Commodities Benefits CTA Funds
The past year has been a painful one for some macro hedge funds that focus on commodities. Recent news of the departure of the co-founders from Carlyle's suffering commodities hedge fund manager Vermillion Asset Management, and commodities fund closures by Black River Asset Management and Armajaro Asset Management paint a grim picture of the ability […]
August 13, 2015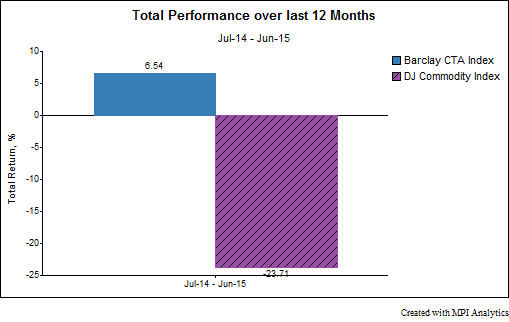 The past year has been a painful one for some macro hedge funds that focus on commodities. Recent news of the departure of the co-founders from Carlyle's suffering commodities hedge fund manager Vermillion Asset Management, and commodities fund closures by Black River Asset Management and Armajaro Asset Management paint a grim picture of the ability of hedge fund managers to navigate recent challenging macro conditions for the sector.
However, performance has not been so bleak for all macro funds. Funds run by commodity trading advisors (CTAs), as measured by the Barclay CTA Index, are having a banner year, up almost 6.54% through June. These funds employ sophisticated, often automated strategies to trade in liquid futures markets across commodities, currencies, rates and equities. Many of the funds utilize trend following models, which seek to buy when markets have been going up and to short when markets go down.
Measuring the correlation of the Barclay CTA Index to the Dow Jones Commodity Index since 2000, we can see that these macro funds typically display decreasing and/or negative correlation when the market is trending downwards, and rising positive correlation when the market is trending upwards.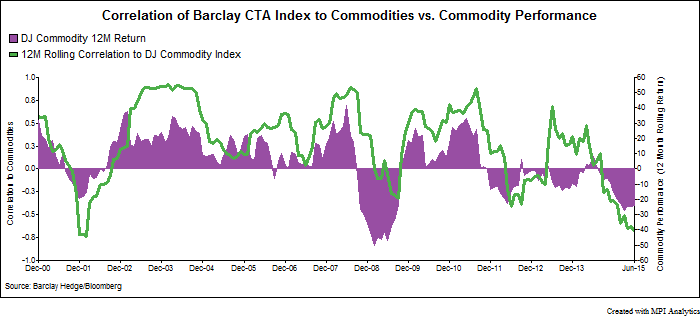 This behavioral relationship has benefited systematic funds during sustained periods of negative performance in the commodities asset class, and has contributed to their reputation as a source of portfolio diversification.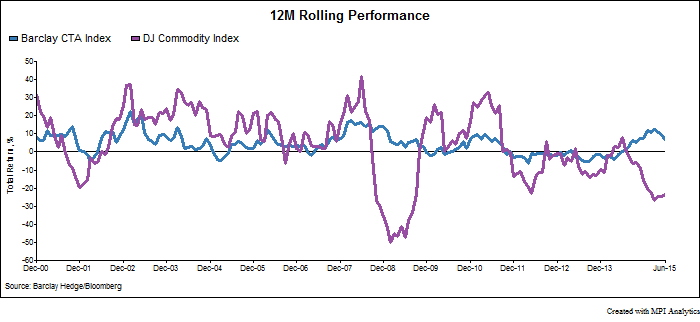 With the persistent turmoil in commodities markets over the past year, CTAs have held to their longer-term pattern relative to commodities. In doing so, CTAs have been among the better performing sectors within the hedge fund universe in the past twelve months, and have proven to be a valuable diversifier for investors.